expressionist Mark Rothko.
...but it sucks compared to Tiger and Leopard.

I don't fully agree with that ... and as I said I use it often.
---
-Mark Rothko
Using an advanced video codec like h.264, you can get decent quality in 720p at 6 Mbps and 1080p at 8 Mbps. (Look at the HD trailers on apple.com)

With current cable modems now getting 8 Mbps download speeds, we're not talking 2 and a half days, we're talking realtime or close to it.

I'm betting apple skips "DVD Quality" (whatever that means) and goes straight into HD. It is the 21st Century after all...

On my lunch break at work, I just downloaded a couple of HD trailers, both 2min30sec in length; 1 at 480p and the other at 720p. My set up is an 3.0Ghz Pentium D, 1G ram, 256K Nvidia Gforce 6800, 20" Dell Digital LCD.

I could tell no difference in file quality. The problem lies in download time. Both files average dl speed was 150KBps. Thats 1.2Mbps if my math is right. The 420p file took 4:28 to dl, translating to 3:34:24 for a 2hr movie. For 720p, it took 12:39, meaning a full movie would take 9:28:45.

I know my cable provider offers up to 4Mbps downlaods, for about $120/month. And thats before the cable servise itself. Even then its not dedicated. Most people with cable will opt for their providers basic service ,like $40 - 50/month for 500-600kbps, or 1/2 as fast as my test. The movies would take twice as long to dl. 19hrs to downlaod will not fly. 7hrs may not either.

If the compression works to get a DVD quality movie down to 1G, then it could be downloaded in about 1h50mim, nearly realtime at work, or 3h40min at home. At work, I would only need maybe a 15min buffer before I start watching, and not catch up to the dl. But at home, I would need about 1h40min buffer. Maybe this is acceptable to some, but if I can walk to Wal-mart or Blockbuster and back in that time, then what's the consumer advantage beyond the novelty?

I'm sure apple engineers can do these same napkin calculations. There would have to be some alternative to the straight dl. Maybe a torrent of some kind built into iTunes 7. I don't know. Just thinking.
---
Rothko
Very classy with the black theme and piano music. Loved it.
---
Interior, The Rothko Chapel
http://www.flickr.com/photos/60005872@N08/5473950261/
http://www.flickr.com/photos/60005872@N08/5473950261/From left to right:
20" Apple Cinema Display, 1st Gen. 16gb iPod Touch, Late 2008 MacBook Pro on top of Griffin iStand controlled Apple wireless keyboard and Magic mouse, 1TB Seagate external HDD, 32gb Ipad wifi only, 21" Samsung display, 2cd Gen. :apple: TV, Razer Lycosa keyboard and Razer Death Adder mouse which control a Windows XP box i built for my job(under the desk). You can barly see it but there is also a Power PC Mac Mini on top of the Windows machince which asks as a FTP server.:apple::apple::apple:

Your link isn't working :confused:
---
rothko chapel
Multimedia
Nov 23, 10:32 AM
Happy Thanksgiving everyone! I thought the Mac mini would be Core 2 Duo by now for sure. I guess they still have quite a backlog of Core Duo units not yet sold. Maybe they're getting killer discounts from Intel on those old slow Core Duo processors.

Seems like the supply of the faster Clovertowns is probably weak enough for Apple to wait until January at least. My own thought now is that if we have to wait for January, might as well wait a little longer for the Stoakley-Seaburg (SS) chips (http://techreport.com/etc/2006q4/clovertown/index.x?pg=1) to ship so the first 8-core Mac Pro can be a really killer machine. Then there's also the issue of Leopard shipping about the same time the full on 8-core with SS setup will be really ready in quantity so Apple can keep up with demand.

So I've set my brain on March '07 now so I won't have another prematurely earger anticipation attack before then. That way if it happens sooner I'll be pleasantly surprised but still may wait for it to ship with Leopard. I will also feel a lot better spending $4k+ on an 8-core with SS inside as well. I'm thinking that may be Apple's plan too. Seems like they would not want to release their first 8-core MP crippled with bottlenecks they know will be opened up in only a few more months. It's also gonna be the most expensive Mac ever sold and I'm sure they want to give their customers their money's worth while at the same time giving their competition headaches. ;) The fact that it is in HD? I suppose so. The concert itself groundbreaking? Well, hopefully that's not what you meant or else you've obviously never seen a show across the pond... :p ;) :cool:Yeah I was referring to the fact that it's in HD and some of the best music concert editing I have ever seen. Just amazing Emmy Award worthy editing.

The last concert I saw across the pond was a YES concert in Genoa Italy in summer of 1972. :D
---
Mark Rothko, artist, Rothko
SoraLimit
Sep 20, 07:58 PM
I have no idea haha.

I was also looking at some 3g Leather Cases (those are my favorite style) is there any reason they wouldn't work with my 4g? For example, this one looks good:

http://www.amazon.com/DLO-HipCase-Leather-Folio-touch/dp/B000WOIFO2

but would my 4g fit in there?

The new iPod touch is more thinner and narrow compared to the 3rd gen. It's just gonna wobble around the cases if you did that.
---
Rothko Chapel murals, c.
Hmm... the Mini still has no Core 2 Duo? That does not sound too promising for MacBook (Pro) updates... unless Apple only wants to use the Core 2 Duo for the high end laptops (MacBook Pro) of course... Or are they waiting untill Leopard has been released?

I wouldn't say that the lack of Core 2 Duo in the Mac mini would say much about what Apple will do with the MBP. I could agree that it makes it slightly plausible that the MB might stick to the regular Core Duo though.
---
The Rothko Chapel is
The 3 days/3 plays thing is kinda bunk, but the wifi sharing in the first place is a pretty neat idea. How many of you use iTunes sharing at work or in the dorm? Wouldn't it be nice if your iPods could do the same?

As far as what's wrong with the wifi as currently done, here:

http://arstechnica.com/reviews/hardware/zune.ars/4

Actually that entire review is pretty good at covering why the current Zune is really not worth it, and why it has potential.

My personal opinion is that they will never hit that potential -- Microsoft in the post Gates incarnation has shown a complete inability to focus, and to "get" the current trends. Realistically all their big successes were pre-Ballmer, and even the XBOX owes more to Halo than it does to any brilliant positioning on the part of MS.

But as far as all out Microsoft bashing, what would one expect on a forum dedicated to Apple?
---
File:Rothko chapel sign.jpg
Most critical applications to be out in september? wouldnt adobe fall into this category???

could be the universal binary of Office
---
Mark+rothko+chapel
Performance and specifications determine whether or not it's a "Pro", not the people who use them. I'm not a professional race car driver, but my car has over 400hp. Does that mean that my car is not the high-performance sports car that the automotive world widely claims it to be?

And besides, how do you know those people aren't using heavy-duty applications? Is a thirty-second observation at Starbucks enough to justify such a statement?

Yes, a 30 second observation of people surfing FB on their Macbook (pros) is sufficient for me to assume that they are not performing complex video rendering or multi-filter Photoshop layering.

Laptops are not Pro machines. A 13" laptop with shared memory and a glossy screen is not professional. Unless your profession is being a writer. The "pro" moniker is a marketing ploy.

I realize the 15" and 17" are more powerful, but you still can't edit 4K RED footage on one, for example. But a Mac Pro? There's nothing professional you can throw at it that it can't do.

Also, regarding the car metaphor: put your 400hp car up against a NASCAR or Formula 1 vehicle and see how well it does on the racetrack against other REAL professional cars.

The car is nice, I'm sure, but is not a vehicle doing professional high performance driving. The same is true of macbook pros. They're solid machines, but they are not professional performance machines.
---
Rothko Chapel. by command_z
LethalWolfe
Apr 13, 02:07 AM
PS i really think that apple is powerfully positioning themselves by selling final cut so cheap. Now you can justify paying more for a Mac box because the software is so much less than the competition. Brilliant if you ask me - make software cheap, sell more macs and cost kick your competition out of the market.
Nothing really new here as this as been Apple's MO for at least a decade. All of the iApps (iMovie, iPhoto, etc.,) used to be totally free and when FCP cost $999 by itself an Avid would put you back $70,000 on the low end. Shake, LiveType, DVD Studio Pro, Color, etc., were all programs acquired by Apple and sold at a significantly lower price than what they were prior to Apple's acquisition.

Lethal
---
Feldman#39;s "Rothko Chapel" on
The 6950m and 6970m are also available in 2gb models. That would help with the larger resolution of the 27" display. Let's hope for that as well!

2GB GDDR5 Memory would make me very happy.
---
Rothko Seascapes
bigmc6000
Jul 18, 08:02 AM
I think it'd be a good idea. What most people in here seem to forget about is that there are millions of people who don't have DVD burners, much less DL DVD burners. Also, if the quality gets much more than 480p we're talking about quite a few older computers not being able to play it back very well. I think my 1.5GHz Powerbook is technically (according to apple) limited at 480p so if there's any slow down or jerkiness to get it to 720p I'm not a big fan of that.

I think rental is a good idea - I've gone to blockbuster a few times and I've even watched some films from my cable company just because I didn't feel like going to blockbuster. But if they can make the price good (1.99 or 2.99 tops) it'd still be cheaper than either of the options I just listed and it'd be whole lot easier to do it.

I like download to buy for music but I'm with a lot of people on here in that if I want to own a movie I'll just go to target the day it's released and get it for $16.

One more thing - you don't want Steve to win this round because the studios would require an absurd pricing model. Look at the universal store - 29.99 for new releases?!?! If you want the DVD just go to Walmart or Target etc and get it way below MSRP otherwise the movie companies are going to make apple do what the retails do - take a loss on every single one sold and I really don't think Steve would be down with that...
---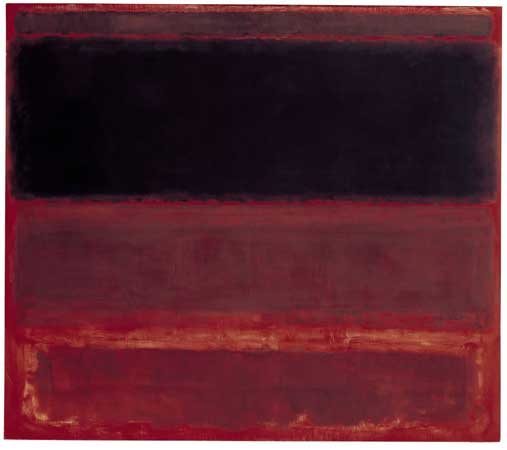 Mark Rothko Four Darks in Red
Watch the WWDC keynote and note that the xserves now use Woodcrest which has a higher TDP than Conroe (95W compared to 65W). Also note what they say about Woodcrest having a better thermal environment that the G5's they were using before which were the same G5's (non-dual core) that the iMac used I believe. Conroe has better thermal characteristics than G5's, the Mac Pro and xserve prove that.

iMac will get Conroe. 2.4Ghz and 2.66Ghz. Conroe is the best value for performance processor that Intel are offering, so they need to use it SOMEWHERE in their lineup.Err...I was defending that Conroe could fit in the iMac. Especially having the G5 in there. (Woodcrest's TDP is 85W by the way...)

And look here (http://spamreaper.org/frankie/macintel.html)
---
Mark Rothko
HecubusPro
Sep 6, 06:37 PM
What's stopping you from doing that now?

I know I have all of my iTMS video backed up to data DVDs...

I know I won't be spending $10-$15 for anything less than DVD quality though, so I hope there's either a rental model or at least 480p.

B

I do backup all of my ipod videos on DVD. I was talking in terms of rentals that so many people are interested in here. Apple would have to implement some sort of copy protection for people who simply want to rent for a few days, so the movies can't be backed up to DVD. Sort of like Divx DVD back in the day. You bought the movie for $5, then after 48 hours it was unusable.

This brings up another point. There are a lot of "hackers" out there who, I would think, wouldn't have a lot of difficulty breaking encryption or copy protection on the possible movie rentals from iTunes. I think that would be another reason Apple would avoid rentals.
---
Morton Feldman - Rothko Chapel
AlphaDogg
Feb 24, 07:00 PM
Here's my mbp setup.

Do I see a white iPhone 3G/3GS peeking in there?
---
Obelisk at Rothko Chapel,
Reverend Wally
Oct 23, 10:56 AM
As I have said before....

"round and 'round and 'round she goes.....
Where she stops....nobody knows

:p
---
Mark Rothko, Rothko Chapel
I see how some might not like how it is handled. I guess my point was it was by design and is not a bug.

Ok gotcha I guess it is not bad in that respect
---
Rothko Chapel
miketcool
Aug 16, 10:20 AM
Can't believe they got rid of the click wheel though, although that rectangular thing would probably work the screen pretty well.

I'm sure there might be a software hack that enables that.
---
I hope all the whinning stops now.
---
DTphonehome
Jul 13, 11:07 PM
I say no thanks. Optical storage is way too slow! Why should I pay $1000 to get a 33GB disc that is slow on accessing when I can spend WAY LESS and use another harddrive thats 300GB+ and rewritable, or buy a 100 pack of DVD-R's for $10? I for one dont see this HD-DVD / Bluray thing getting big anytime soon, and Im sure as hell not going to rebuy my DVD collection, higher res or no higher res, I mean hell... I dont even have an HD TV yet,too damn expensive!

Apple - wait on this one please. Just put superdrives in everything and leave the combo drive in the past.

Yeah! Since this guy doesn't want it, neither do the rest of us!
---
Evangelion
Jul 20, 04:33 AM
I believe Nokia and Microsoft have some sort of alliance.

Not quite. Yes, Nokia did announce a while ago that they will support MS's mobile-email-thingy. But that's it. Other than that, the two are more or less mortal enemies.
---
Consultant
Apr 26, 12:52 PM
Amazon "One Click" not only use generic words but also patents obvious methods.
---
PowerFullMac
Jan 12, 10:25 AM
Really? I guess they've never heard of Nike before then.

People thought the iPhone would be called the iPhone for years.

I think that they should go with 'MacBook Pump' instead. The Reebok Pumps were so cool. Pump it up!

http://www.flytip.com/blogs/sneaker_culture/archives/images/alife_pump.jpg

Cisco already used the name "iPhone", but that never stopped the almighty Apple!
---